Hello and welcome!
Thank you for browsing our online store of stunning fashion, fantasy costumes, uniforms, dresses, high heels, boots, lingerie and accessories!
To contact us please only use the Contact Us link at the bottom of all of our web pages. This will allow us to make your message to us into a Ticket can we can reply quickly. Sending us emails directly may not get a reply.
Please read some of our customer testimonials here.
The very high quality of our garments and accessories speak for themselves! We have now shipped our garments to over 110 countries worldwide; not only the USA, Canada and all of Europe, but also to faraway places like Chile, Peru, Fiji, the Maldives, Cambodia, Dubai, Mexico, Mongolia, Argentina, Brazil, Hong Kong, Japan, Marshall Islands, Falkland Islands, Tasmania, Ukraine, Russia, South Africa, Saudi Arabia and Bahrain.
For your complete peace of mind, we provide:
very high quality materials and workmanship, beautifully made every time in the colors and options you choose
100% discreet service - we have been in business making fashion online for OVER 18 YEARS
100% secure online ordering
Duty-free shipping! (our hubs in USA/Europe mean we can ship locally in your region to help avoid you getting customs duties)
Your credit card will show the charge as

E-BLUE

. You can also pay by Bitcoin and Bank Transfer. We do not accept PayPal.
We do not send you any follow-up postal advertising or paper invoices or anything like that (to respect your privacy 100%)
Friendly, fast replies to queries (all queries replied to in under 24 hours)
Orders under 5kg in EU/UK are sent within Europe to rarely get any customs duties!
Orders under 5kg in the USA/Canada are sent from within the USA to avoid any customs delays!
Orders in Asia/Oceania (Hong Kong, Japan, Korea, Singapore, Australia and New Zealand etc) are sent by DHL.
Heavier orders (usually over 5kg) are normally sent directly by DHL courier as low value samples.
Your package is sent in PLAIN, SECURE packaging. There is no indication of the content inside. The package is to be signed-for on delivery by anyone living at your address. If you have a secure location your postman leaves parcels, you can arrange with them to use that facility instead in most countries.
Browse more information on shipping here
All of our very own creations made by our own team of very experienced seamstresses! Our modern workshops in Thailand allows us to produce high-quality items, with fabulous quality materials and top workmanship with seamstresses with 20+ years sewing and cutting experience; but at lower prices!
Many of our team of girls are into the fantasy and fetish scenes; and we know and understand what it is you 'girls' like to wear! We also fully understand your need for privacy and discretion when your packages are ordered and delivered.
We have been making fantasy clothing since way back in 1994 and had our first online presence in 1988.
We are open 7 days a week, and offer fast and good support to your questions - you can contact us here.
You can see our size guide here. If you create a shop account, and click My Account at the top, you can also enter your body sizes there! These sizes will also be sent to us when you order, allowing us to check/modify your item for FREE!
If you are unsure which size to order, please measure your CHEST, WAIST, and HIPS, and then please contact us here.
Please read some of our customer testimonials here.
We all know that the first thing about any fetish and fantasy clothing is the look of the garment. When we see something online to buy that's what we look for first, the second is the price; and if something looks great we make the decision to buy even though we are not able to see it in the flesh or feel or see the quality of the material.
The fantasy community is growing bigger every day, but how many times have you made an online purchase only to receive it and been disappointed? How many times have you looked on websites and thought a simple French Maids uniform, or sissy-panties that are terrible quality when you receive them, or over-priced? Beware of sites that copy other's photos and make cheap junk copies. Everything on our shops are our photos, our designs and our models.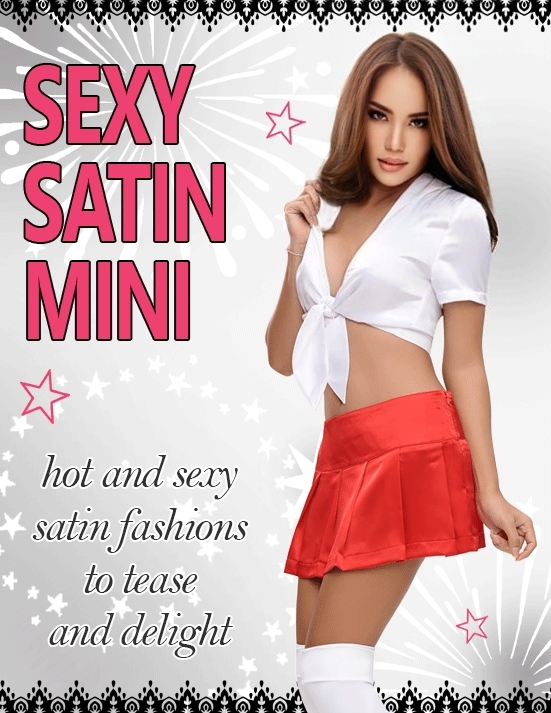 Our satin panties are especially amazing - and why do we love Sissy-Satin panties so much? Because it completes whatever sissy outfit we are wearing, but we love the satin because of the way that it feels when we touch it and of course that lovely shine and all the sissy lace. But we came up with the idea of having the satin panties double-lined inside, when your with your Master or Mistress or Nanny you know they love to feel the satin on your body, so why shouldn't we feel that also? So just like a good quality skirt or jacket is lined in the very best satin lining we lined every pair of satin panties, we cut the pattern out twice for each pair and lined them shiny side inwards as well as on the outside, the feeling against your skin is incredibly sensual and we defy any sissy not to love these!
We also use the very best lace and accessories, such as nylon-coated metal clips for our lingerie and suspender belts.
Most people know that many factories mass-produce using the cheapest bulk materials to keep their costs down and to sell more, but we have found that investing more in the best fabrics available, together with soft laces makes our clothing range really stand out and last longer.
We do not rely on factories in China that churn out the same old cheaply-made junk over and over again, made from the cheapest materials. We have our very own team of cutters, pattern makers and sewing staff dedicated to fantasy fashions. For example, we only use the very best quality satin available for our shiny uniforms.
Please note that all items are hand-made to order to the sizes and colours you choose. Refunds are not possible for any hand-made item. The only refunds available are on stock items such as jewellery. We also cannot add new items to existing orders.
Our store is growing, with exciting new designs continually being added.
We are excited at what we have created for all you sissies, Mistresses, Masters, TVs, TSs, sluts, sissies, maids, slaves, diaper boys, ABDLs and plastic, corset and leather lovers in mind!
If you are a special-size, or want an absolutely perfect fit to your body, we offer a FREE made-to-measure service!
Please read some of our customer testimonials here.
Please note all orders are final. Any hand made clothing or footwear item under construction cannot be cancelled without a cancellation fee incurred, usually at least 50% to cover materials and labour.
Happy shopping!
Angela, Kirsty and Nikki x x x
Washing our Garments
Our costumes are made from high quality, beautiful fabrics and should be washed with the proper care of any delicate clothing item.
For satin and lace garments, we recommend washing in a very low temperature hand wash (or even cold water by hand). Dry clean is recommended if possible.
For holographic fabrics, we recommend washing in a very low temperature hand wash (or even cold water by hand). Dry clean is recommended if possible.
Do not just put uniforms into a washing machine with your regular laundry and expect the uniforms to keep their quality!
If washing satins, we recommend adding 1 teaspoons of SALT to the water before washing. This helps to ensure the satin colours are stable and will not run into the lace if your water is slightly higher in pH.
For our fake-leather items, we recommend washing by hand with luke-warm water, then hanging to drip-dry.
Never tumble-dry! Drip dry please. Hang your items out to dry on a washing line to dry slowly and naturally.
All designs, videos, and artwork is copyrighted content of Engelen inc. Card processing provided by e-blu-group. Company 12552072. London WC2H 9JQ http://e-blu.group